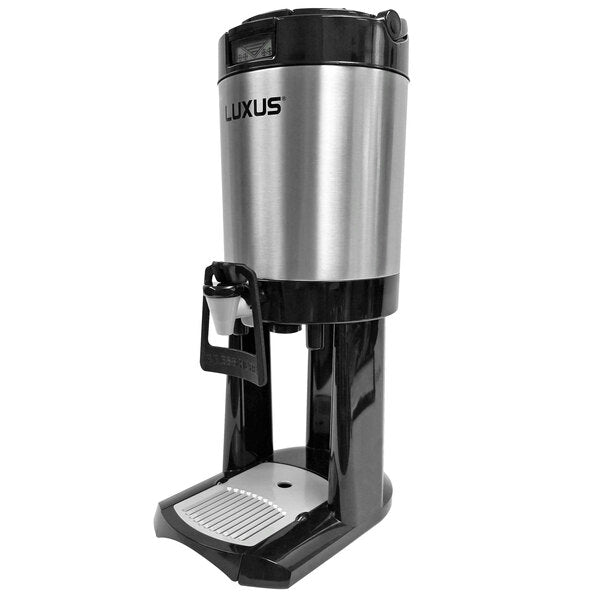 L4D-10TLA LUXUS® Touchless Thermal Dispenser
---
This popular 1.0 gallon size LUXUS Dispenser is compatible with all Tall FETCO Single and Twin 1.0 Coffee Brewers.
Standard features of the innovative TLA series include the digital Freshness Timer® and Volume Indicator. The Freshness Timer® digitally displays how long the beverage has been held with a series of icons that fill in over time. The Volume Indicator shows how much liquid has been dispensed in .25 gallon increments with a "V" shape that gradually disappears. These features are critical for the operator monitoring liquid levels and maintaining uninterrupted beverage service.
The funnel is designed to withstand high temperatures, impact and acidity. The top-mounted handle allows for quick and easy cleaning and maintenance.
Direct access to the brew cap and funnel without removing the lid prevents moisture and heat from escaping to keep liquids hot and fresh.
The interior construction features a high-quality stainless-steel vacuum liner with superior insulative properties for optimum retention of heat, freshness and flavor. The durable stainless steel outer body construction is attractive yet withstands harsh conditions associated with daily use, cleaning, handling and transportation.
Key Features:
Hands-free Dispense
Simply press a cup against the handle for a hands-free dispense.
Faucet Handle
Faucet handle made with antimicrobial Omni Pro Armor at the FETCO facility in Lake Zurich, IL
Omni Pro Armor
Faucet handle only made with antimicrobial Omni Pro Armor.
Clean and Wash
Always clean and wash this product thoroughly.
We're your complete café solution. From design & installation, to product supply. We care about doing things right, personal service, quality fit outs, quality equipment and great coffee.  Get in touch to become a wholesale member.