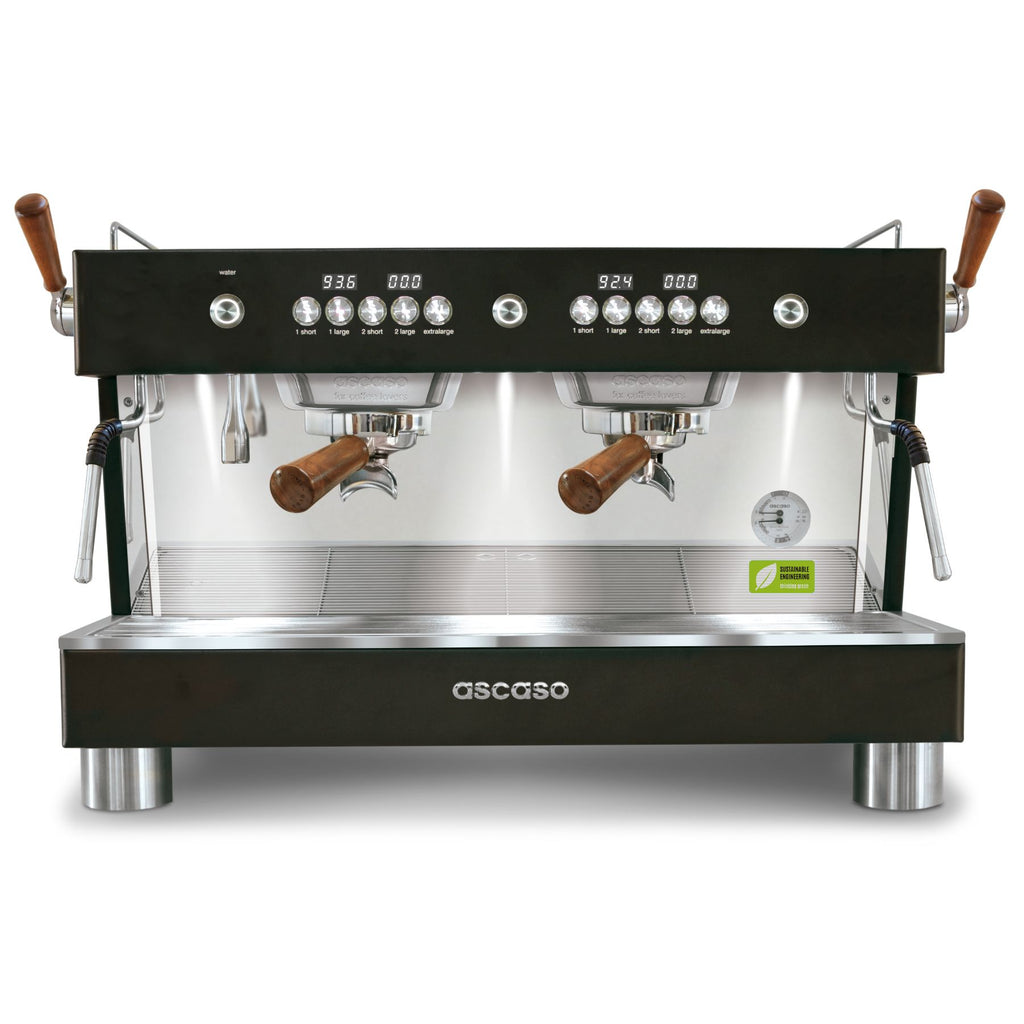 Ascaso Barista T Plus Raised 2 Group Black/Wood 230/380V
Regular price
$11,531.67
/
---
The Ascaso Barista T Plus is an energy-efficient commercial espresso machine that provides clean filtered water and thermal stability to make the perfect cup of coffee every time. Ascaso is a leader in the industry, designing innovative machines with high-quality stainless steel for sturdiness and durability.
Listing is for Group 2 (Available in Group 1 and 3 Contact for pricing)
Product Features
Thermal Stability System. The filtered and clean water enter the machine through the rotary pump at a certain pressure, and it comes out hot without touching or altering the water in the water boiler.  And all this without constantly reheating the water or having saturated groups of water.

Energy Efficiency. The heating element only operates when necessary and only for as long as required, which allows for "smart" control with a much lower energy consumption, a savings of about 50%, compared to a single boiler traditional machine.
Multi-Group Technology. Power is only used by the part of the machine in use at any time, and each group can be turned off or on independently.
PID Control. All included in the coffee boilers and steam boiler. Features electronic thermostats that are much more precise and act much faster than traditional mechanical pressure gauge system.
Customization available
Specifications
 
1 Group
2 Group
3 Group
Dimensions (W"xH"xD")
17x18x21
28x19x21
36x19x21
Boiler (230 V)
2000W 50-60Hz
3500W 50-60Hz
3500W 50-60Hz
Coffee Group (W)
1000
1000 x 2
1000 x 3
Weight (lbs.)
88
157
205
Steam Boiler Capacity (L)
5
8.5
8.5
Steam
1
2
2
Water
1
1
1
Max. Cup Height Normal/Raised (in.)
3.5/4.75

3.5/4.75

3.5/4.75

Dynamic Pre-Heating
Yes
Yes
Yes
Adjustable Feet
Yes
Yes
Yes
Pump/Boiler Pressure Double Gauge
Yes
Yes
Yes
Rotary Pump Motor (200L)
Yes
Yes
Yes

Filter Holder 1 Coffee/2 Coffees

(Stainless Steel)

1/1
1/2
1/3
Electronic Auto Level
Yes

Yes

Yes

Boiler Drain Valve

Yes

Yes

Yes

Empty Valve/Safety Valve

Yes

Yes

Yes

Volumetric Dosing

Yes

Yes

Yes

Barista Lights

Yes

Yes

Yes

Heating Element & Rotary Pump Stainless

Yes

Yes

Yes

Coffee Temperature PID Control

Yes

Yes

Yes

Steam Temperature PID Control

Yes

Yes

Yes

Digital Multi-Function Display

Yes

Yes

Yes

Pre-Infusion (100% adjustable, 0.1s Precision)

Yes

Yes

Yes

Group Extra Heating Element

Yes

Yes

Yes

Coffee Group Insulation

Yes

Yes

Yes

Hot Water with Solenoid

Yes

Yes

Yes

Steam Boiler Insulation

Yes

Yes

Yes

Joystick Taps


Yes

Yes

Yes

Water Temperature Control (Internal)

Yes

Yes

Yes

Safety Switch Per Group

Yes

Yes

Yes

Active Cup Warmer

Yes

Yes

Yes

Wood Accessories

Yes

Yes

Yes

Chromed Feet

Yes

Yes

Yes
We're your complete café solution. From design & installation, to product supply. We care about doing things right, personal service, quality fit outs, quality equipment and great coffee.  Get in touch to become a wholesale member.